Thank you Sue at SusanD1408 for this lovely award - I feel very honoured
Now I have to tell you 5 facts about myself and award 5 people.
1. I am a crochet addict (you might already know this)
2. My other passion is gardening - particularly at my
allotment
3. I am a Coeliac and have to follow a very strict Gluten Free Diet
4. My right ankle plays me up when the weather changes as I had an operation on it to sever the nerve after it was damaged in the Tsunami
5. I have a cocker spaniel who's 13 years old and is deaf
Now for my awards - they go to:
I love all your blogs!
Now for my 2nd award which you can see top right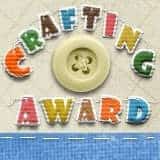 This is a great site for all things crafty
Do go and take a look &
Thank You so much for this award!