Yes it's the 1st of February and I am lucky to have been tucked up in the warmth of my house most of the day today, as it was -2 out there, apart from a quick trip out to tend to a little gardening job that I do. Still that only took an hour and although I froze I was soon back indoors and Crocheting away!
GAD - Day 32 is
I also managed to complete some more of the Beach Cover Up Top too!
That will be continued and is looking good so far!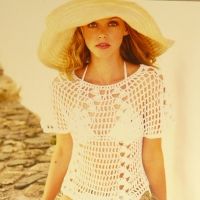 I hope you like the new Blog Makeover too!